Resources
3S2BFS Home QuestionS ABOUT DANIEL ABOUT FRANK PRICING REFERENCES
Resources Provided:
All resources will be provided electronically.
√ A workbook to print or work from your computer
√ Spreadsheets to work from the computer with automatic calculations
√ Sample spreadsheet with numbers and calculations entered for examples
√ Emails with other pertinent information for this program
√ You will have access to four (4) plus hours of live sessions for the teaching and instructions on how to use the practical tools provided.
√ You will have the opportunity to ask a question during the Questions and Answers (Q&A) segment at the end of each live session.
√ You will have access to the recordings of the live sessions.
Notes:
1. You will not have the opportunity to ask questions if a CD package has been purchased.
2. If you are attending a live seminar you need to bring a laptop or tablet with the workbook available on the machine.
3. If you do not have a laptop or tablet, please print your workbook and spreadsheets to bring with you to a live seminar.
4. We will have workbooks in book form available for $15.00 each for those who do not have a laptop, tablet or printed copies.
5. We will have spreadsheets in book form available for $10.00 each for those who do not have a laptop, tablet or printed copies.
6. The spreadsheets in book form will not contain all 12 months, but only the two Information pages and the January Budget page.
7. You may purchase the program as a live Tele-Seminar, which will offer you access to Question and Answer segments.

Resource Descriptions: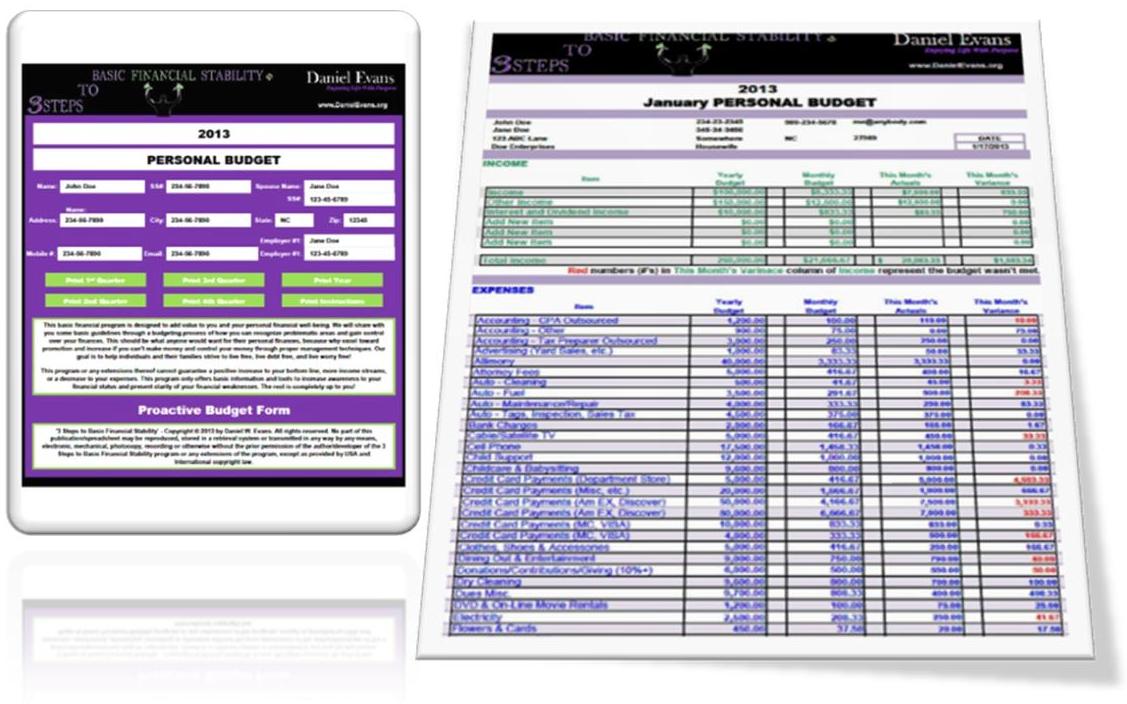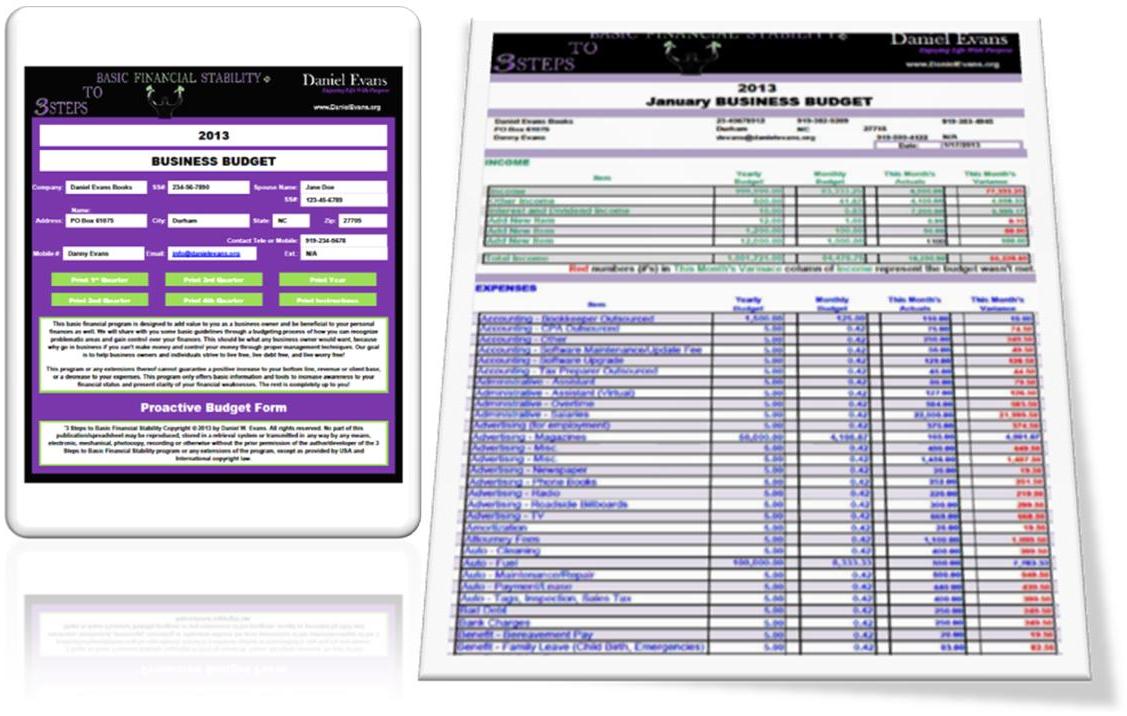 In a CD, Live Seminar or Live Tele-Seminar you will receive two budget spreadsheets. A Personal and Business Budget for the purpose of separating your finances for clarity in identifying and managing your financial status. Each budget will contain pages to enter personal contact information only once, one page to enter your historical financial data to start your budget, and a page for each month of the year to enter monthly actuals. The spreadsheets contain automatic calculations and instructions to lead you through the process. Along with the audio or live presentations you will receive guidance to complete your spreadsheets. The above images are examples of the Personal and Business Information pages and January Budget pages.
| | | |
| --- | --- | --- |
| You will have instructions at the bottom of each spreadsheet budget page to assist you in accumulating your financial historical data and how to enter the data into the spreadsheet. | | You will receive a workbook with fill-in blanks. the answers will be within the teaching of each session. At the end of each session the workbook will have a sheet to assist you through the process of accumulating your budget information. |
You will receive an Example Budget spreadsheet as a useful tool to help explain different elements of the budgeting process. There are notes in red on the Example Information and the January Budget pages. The notes from the Example Budget along with Instructions & Notes to Properly Complete Your Budget and the audio and seminar instructions will provide you with the assistance you need. The Example Budget is intended for use while preparing your budget after historical financial information has been accumulated. This part of the process is not done in a seminar due to the potential of personal information exposure.