Our Fasting Group
Articles FAQ's How to Fast Resources Testimonials What is Fasting? Blog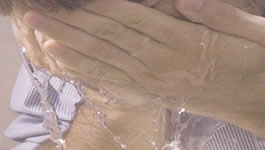 I am in a group of four that fast on a regular basis. We have a prayer focus for each fasting period and we also share our personal prayer requests with each member of the group. A list of prayer requests are compiled into one email and sent to each participant. The list is updated as new requests are submitted by the group participants and sent to each fasting partner. We have seen supernatural manifestations of our group's prayer and fasting endeavors. As we meet during the fasting period to pray the prophetic is always delivered by the Holy Spirit. The group was started with seven participants, but that number kept changing. A decision was made to keep the group with four faithful participants. There is power in prayer; with fasting added the experience is shifted to a higher level in the Spirit.
We worked hard at trying to keep our fasting time a secret as the Word of God teaches. Matthew 6:16-18 (NLT), '16 "And when you fast, don't make it obvious, as the hypocrites do, for they try to look miserable and disheveled so people will admire them for their fasting. I tell you the truth, that is the only reward they will ever get. 17 But when you fast, comb your hair and wash your face. 18 Then no one will notice that you are fasting, except your Father, who knows what you do in private. And your Father, who sees everything, will reward you.' At first we met at the church and then the word would get out. Others would learn what days we fasted and would tell others. Then I started to schedule different days through the month and after a while this worked. Now we meet at different locations and could fast anytime during the month.
With much prayer seeking direction for our group the Lord spoke to me to offer the same opportunity to others that are seeking a deeper relationship with the Lord. We have decided to organize prayer and fasting opportunities for all that would like to participate. There are resources we offer on this site that will help you through your endeavor. You can select a local group on your end and join us or you may join us individually. The fasting guides are structured to assist you in forming your group and recording all information you and your group may receive from your fast. The guides are intended for personal use, but there are spaces to record information for each participant of a group fast.
If you desire to join us in a fast, please register and you will receive emails of a fast schedule, prayer focus, and a compiled list of personal prayer requests from others that join the group for the same scheduled fast. When you register, you agree to allow ua to share your first name and personal prayer requests with the remainder of the group. Each person in the group for a scheduled fast will be able to blog questions to us during that specific fasting period only. Questions should be related to the fast you are participating in. If they are not related to that particular fast, they may be forwarded to someone else in another department. The reason behind this is that we may be able to service the participants of the scheduled fast. Thank you!
Daniel Evans